Press & Media
iLost has already been in the news. You'll find an overview here. Are you looking for more information, images or the iLost logo? Please contact us.
iLost press releases
2017
2015
2014
2013
Back to press coverage
Amsterdam, 29 juni 2017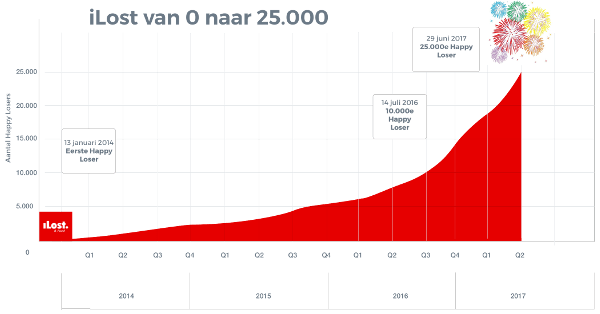 iLost helpt 25.000-ste 'Happy Loser' bij het terugvinden van verloren goed.
Amsterdam, 29 juni 2017 - Het in Amsterdam gevestigde iLost heeft vandaag voor de 25.000-ste keer een gevonden voorwerp geretourneerd aan de rechtmatige eigenaar. Het gevonden voorwerp in kwestie is een telefoon en werd gevonden door Eindhoven Airport om 08:04 uur.
Over iLost
iLost richt zich met speciale software op het inzichtelijk en eenvoudig doorzoekbaar maken van gevonden voorwerpen via Internet. In Nederland maken meer dan 80 organisaties gebruik van het gevonden voorwerpen systeem, waaronder Rijksmuseum, Apenheul, Arriva Brabant, GVB, Awakenings, Eindhoven Airport en de gemeente Arnhem.
'Happy Losers'
Inmiddels zijn er meer dan 100.000 voorwerpen door particulieren en organisaties geregistreerd waarvan er 25.000 terug zijn bij de eigenaar, door iLost liefkozend 'Happy Losers' genoemd. Een deel van de voorwerpen werd via koeriersdiensten verzonden naar ruim 60 verschillende landen.
Retourpercentage
"Het is mooi te zien dat 25% van alle voorwerpen die op ons platform geplaatst worden retour komt bij de rechtmatige eigenaar," vertelt oprichtster Hanneke Stegweg. "Zeker als je je realiseert dat dit zonder iLost gemiddeld maar 7% is. Ons streven is om dit percentage boven de 50% te krijgen."
Gevonden voorwerpen
Opvallende voorwerpen die werden geregistreerd zijn een doorgeknipte enkelband van de reclassering, kunstgebitten en kinderwagens. Voorwerpen waarnaar het meest gezocht wordt via iLost.nl zijn tassen, sleutels, portemonnees, telefoons en jassen. De meest gevonden voorwerpen zijn sleutels, tassen, portemonnees, ov chipkaarten en brillen.
Voor meer informatie kunt u contact opnemen met Hanneke Stegweg via hstegweg@ilost.nl of 0657939479